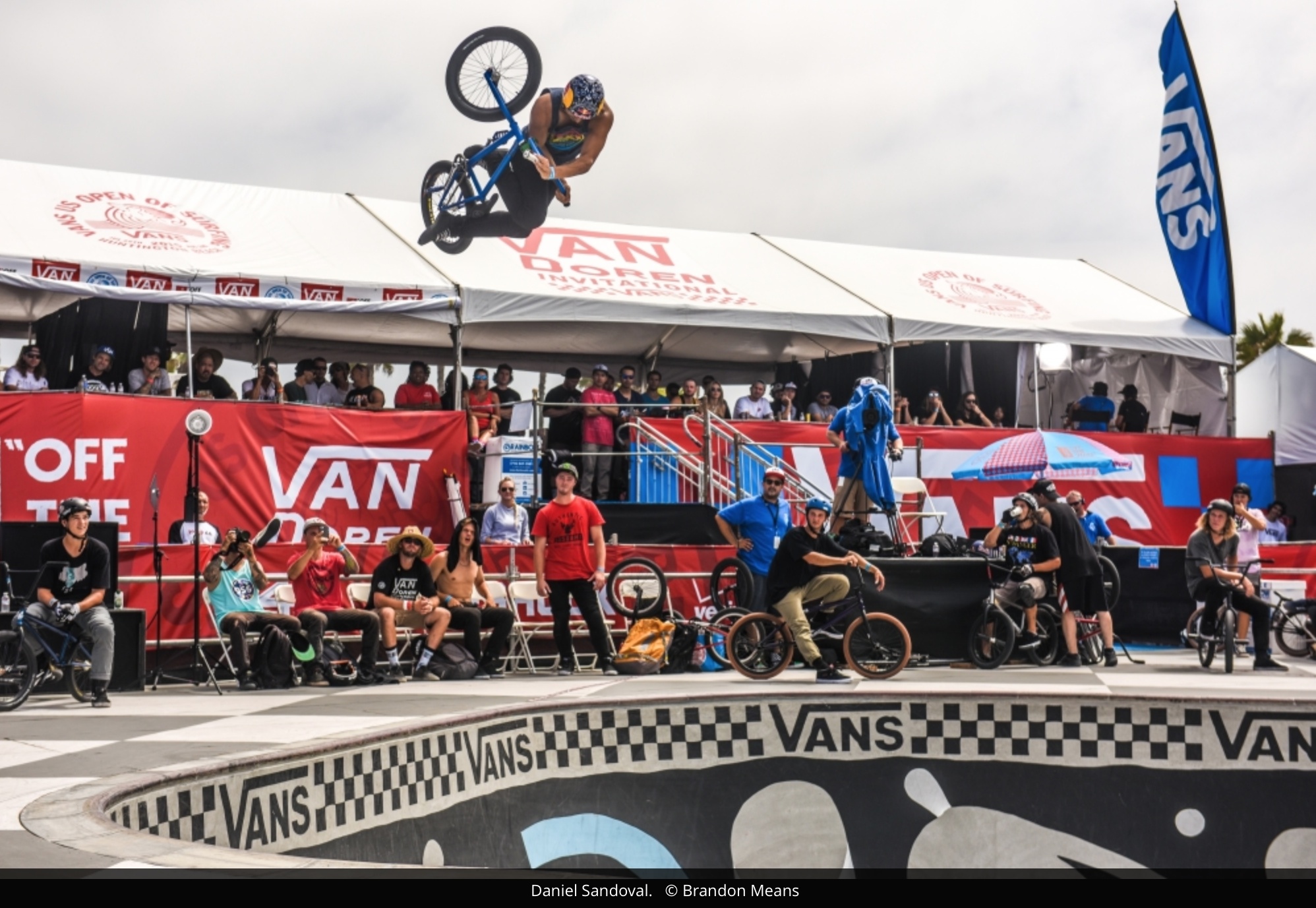 Daniel Sandoval. Photo by Brandon Means
BMX BOWL RESULTS: Prelims Final

Check out the BMX Prelims and Final webcast Replays and photo galleries at Vans US Open of Surfing

BMX BOWL Prelims Recap: Friday, July 31, 2015
The BMX Prelim at the 2015 Van Doren Invitational is a wrap, with the focus shifting to Sunday's Final. 5 riders qualified directly to the Final based on 2014 results and last year's winner Gary Young leads a field that includes Chase Hawk, Dan Foley, Sergio Layos and Kris Fox, followed by the top 15 riders from today's prelim.
Corey Bohan of Brisbane, Australia rode in his typical fast, flowing and stylish fashion to round out the top 5 today, while Larry Edgar of Corona, CA continued to blast over the elbow and spine higher than anyone en route to 4th.
The top 3 from today (who will be seeded 6,7 and 8 in the VDI BMX Final) continued the dialed riding that recently earned them all medals at X Games Austin. Scotty Cranmer mixed it up as usual, riding fast and big with a perfect fufanu on the course railing followed by an opposite truckdriver over the spine.
Dennis Enarson of San Diego placed 2nd riding dialed and carefree, yet at a level few riders can match. Always a favorite, expect to see even more from him during the final on Sunday.
The 2013 Van Doren Invitational winner took the top spot in the 2015 prelims with runs reminiscent of his recent X Games Gold medal run. Daniel Sandoval of Corona mixed big airs and transfers with an abundance of tech moves to join the 20 rider final on Sunday, seeded directly behind the 5 pre-qualified riders. Tune in to the live webcast at 11:15am PT on August 2nd to watch what will surely be another epic event.
1. Daniel Sandoval
2. Dennis Enarson
3. Scotty Cranmer
4. Larry Edgar
5. Corey Bohan
6. Kevin Peraza
7. Pat Casey
8. Kevin Kalkoff
9. Matt Cordova
10. Matt Roe
11. Tyler Fernengel
12. Alex Hiam
13. Sebastian Keep
14. Clint Reynolds
15. Trey Jones
16. Greg Illingworth
17. Chad Osburn
18. Maxime Charveron
19. Vince Byron
20. Coco Zurita
21. Tom Dugan
22. Dean Cueson
23. Boyd Hilder
24. Matty Cranmer
25. Geoff Slattery
26. Dylan Stark
27. Ryan Guettler
28. Ollie Shields
29. Corey Walsh
30. Mike Clark
BEST TRICK – Larry Edgar
BEST LINE – Greg Illingworth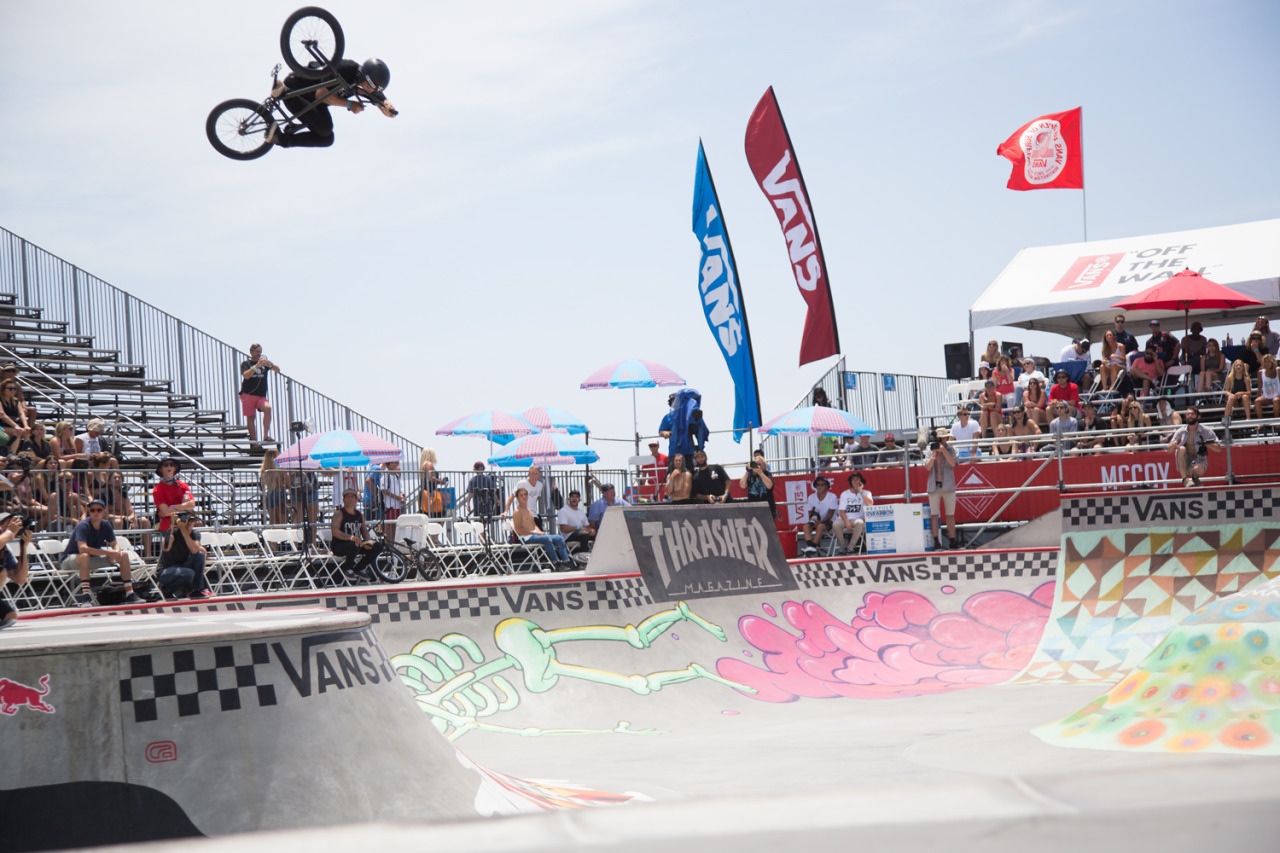 Larry Edgar. Photo by @colinmackaybmx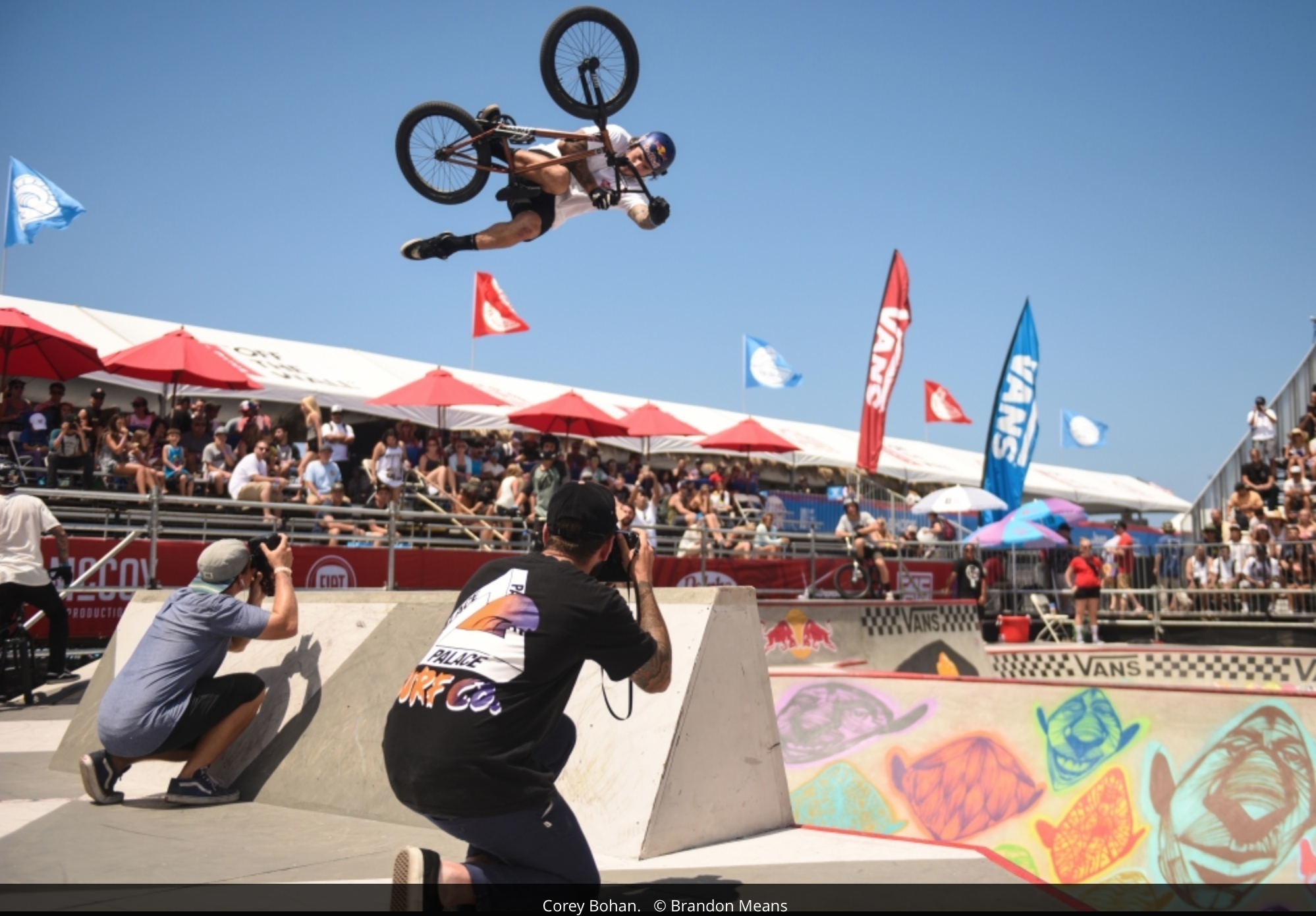 Corey Bohan. Photo by Brandon Means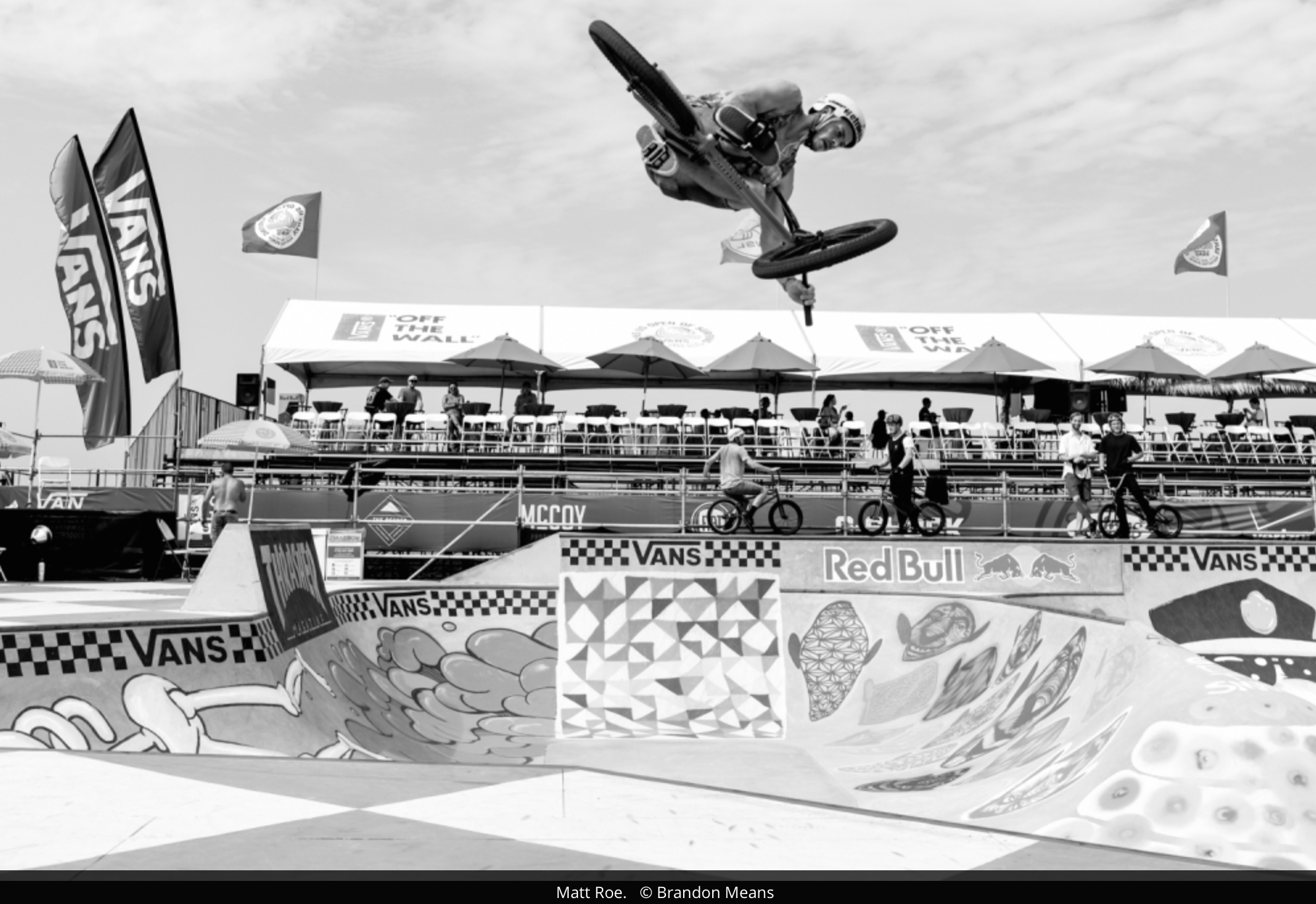 Matt Roe. Photo by Brandon Means

Chad Osburn. Photo by Brandon Means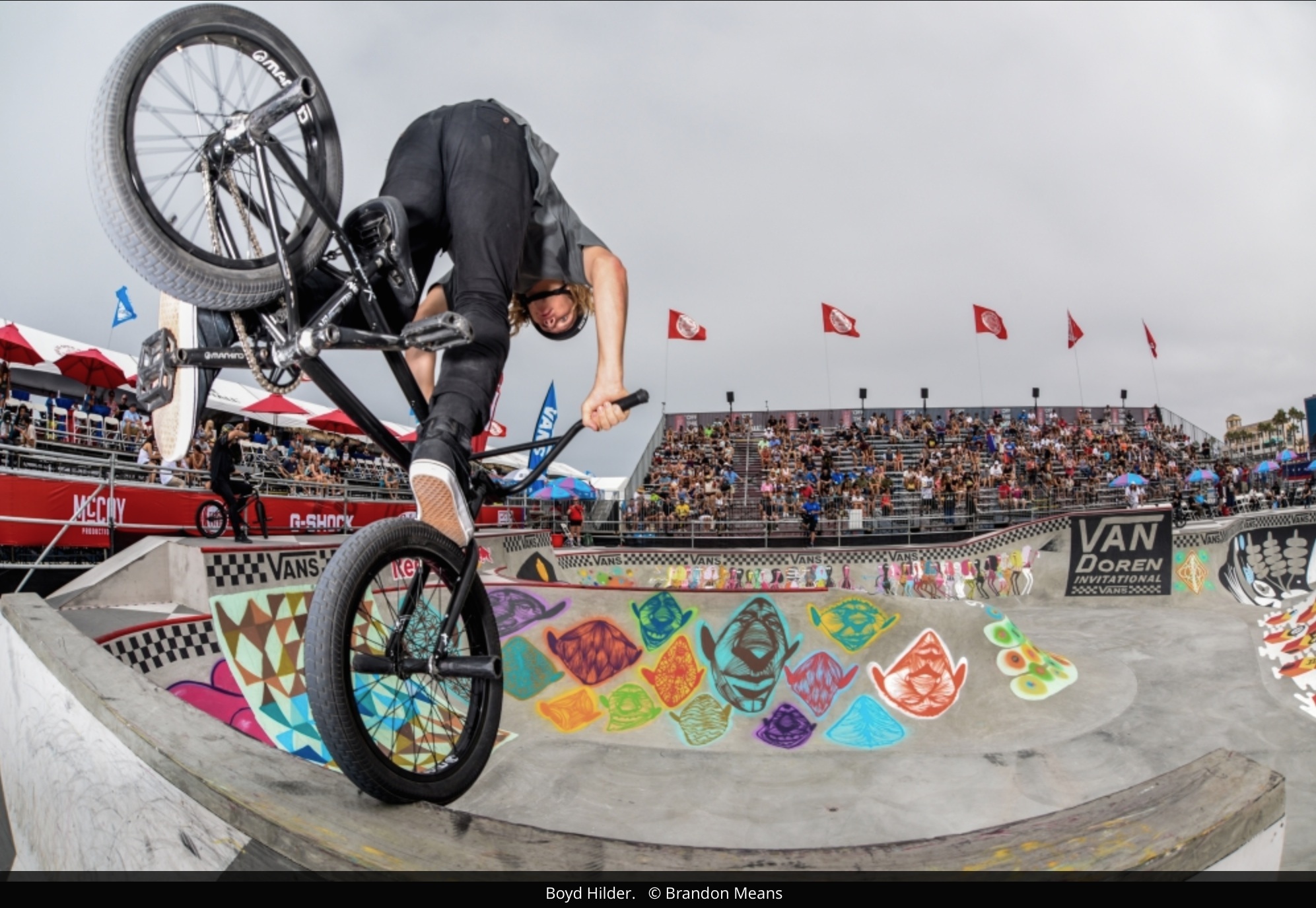 Boyd Hilder. Photo by Brandon Means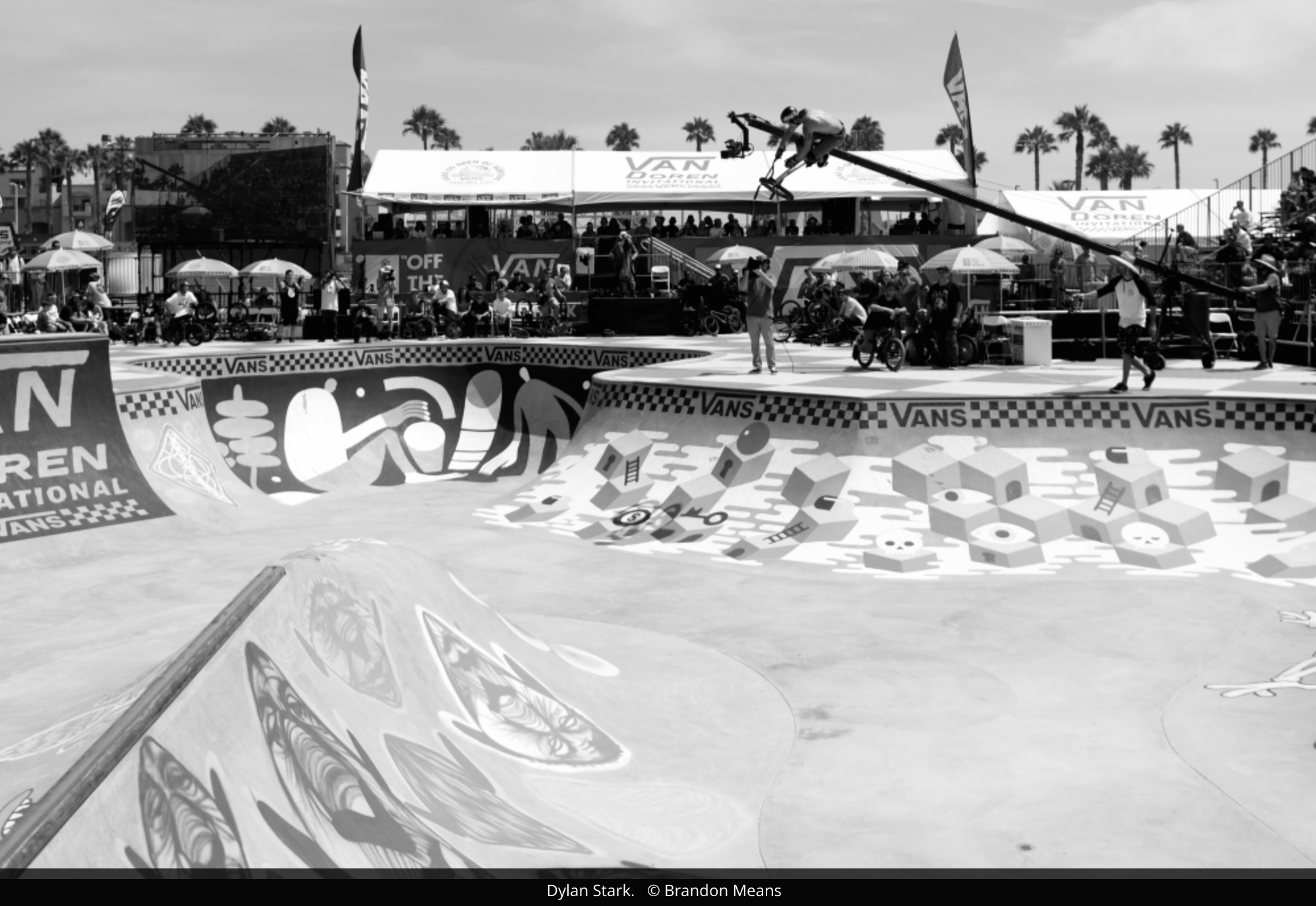 Dylan Stark. Photo by Brandon Means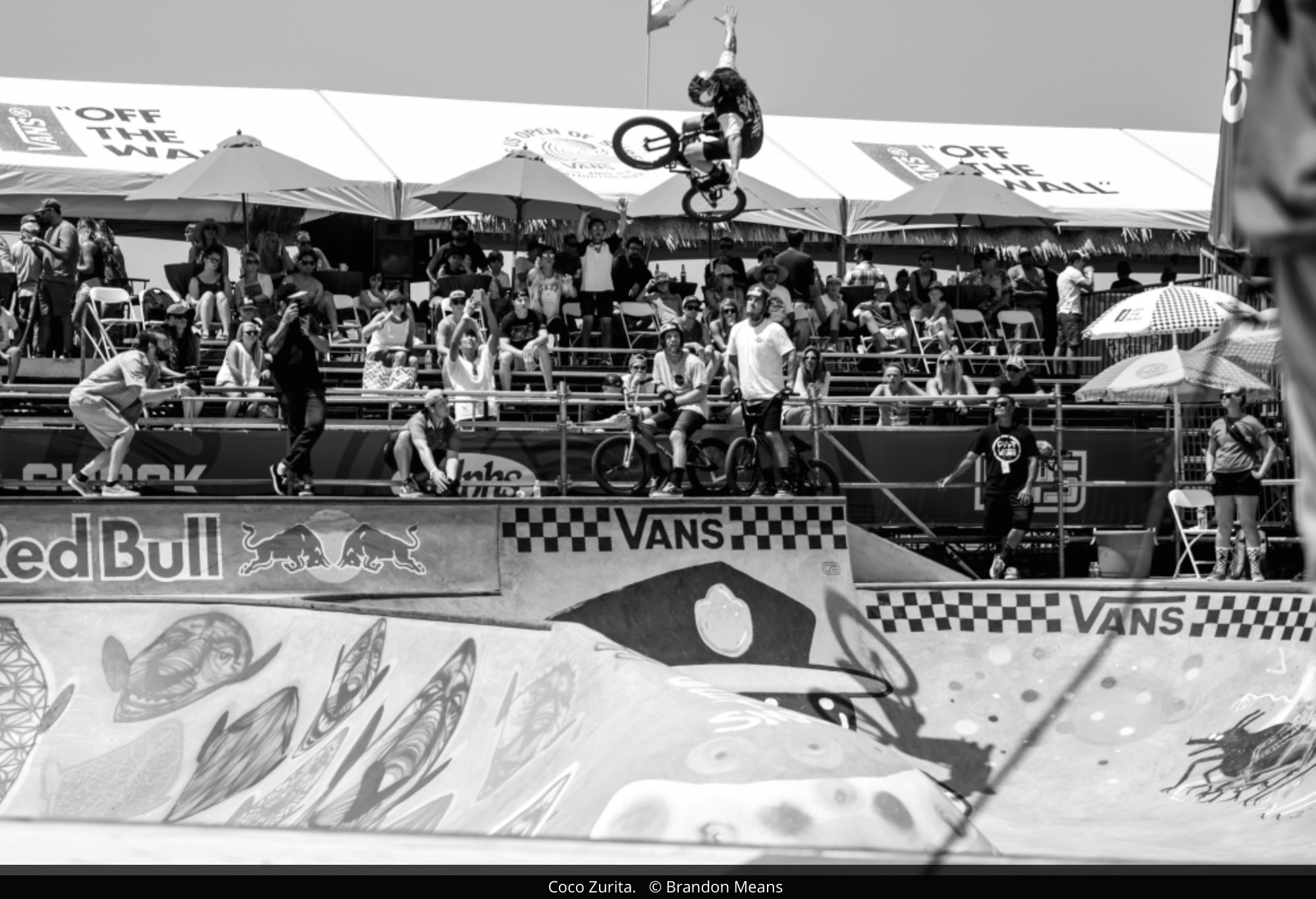 Coco Zurita. Photo by Brandon Means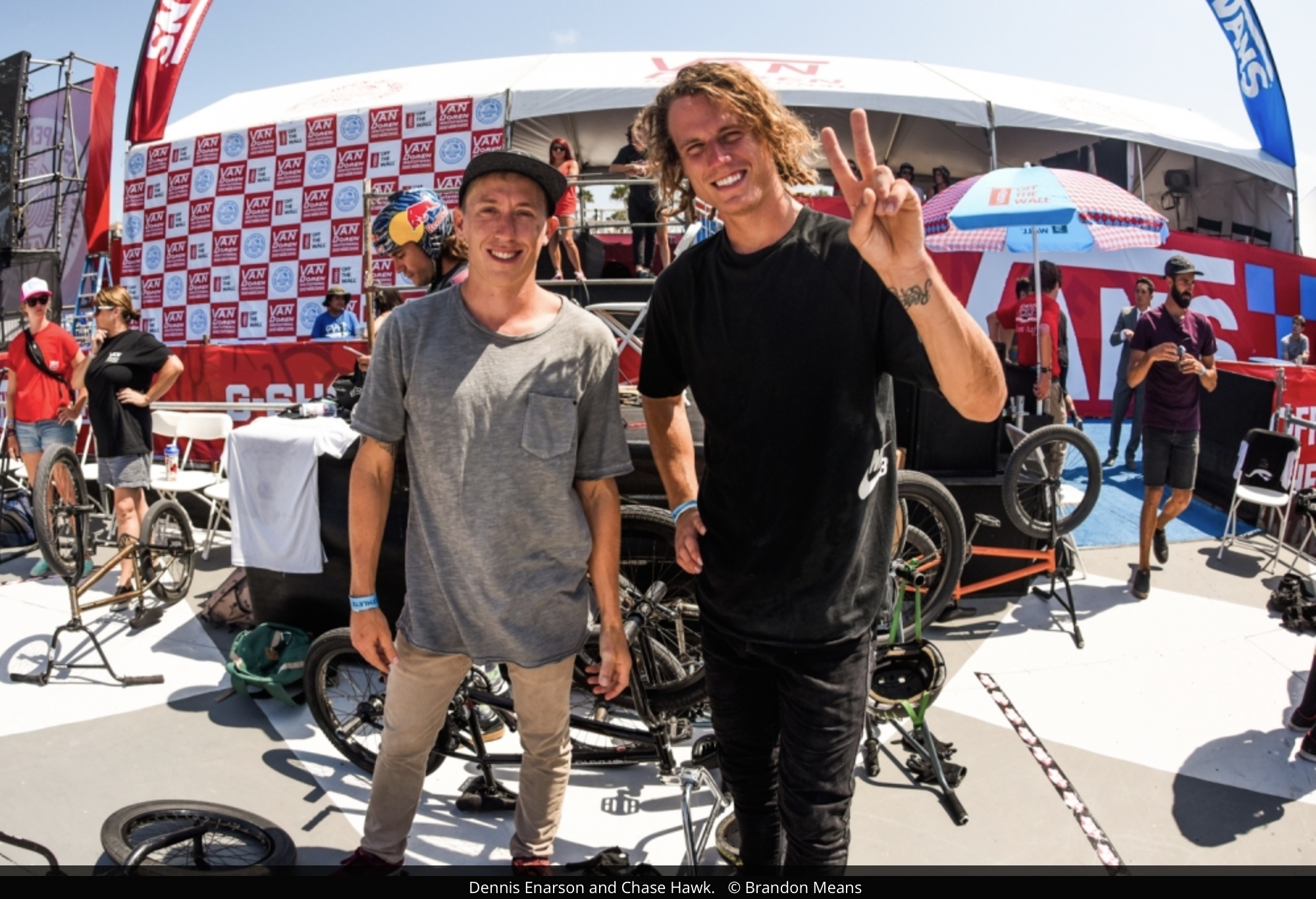 Chase Hawk and Dennis Enarson. Photo by Brandon Means
Check out the BMX Prelims and Final webcast Replays and photo galleries at Vans US Open of Surfing