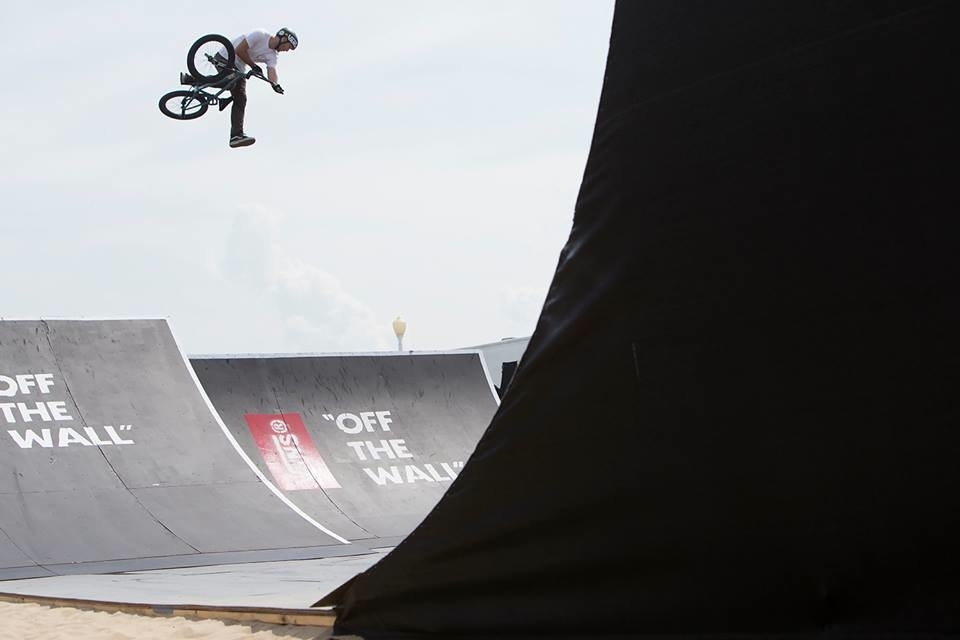 Gary Young Photo by @colinmackaybmx

Vans "Off The Wall" BMX Invitational
at the East Coast Surfing Championships (ECSC)
August 21-24, 2014
Virginia Beach, VA

Vans BMX on Tumblr
@vansbmx66 @ECSCsurf
#offthewall #firstinbmx #ecsc2014 #ecsc
BMX Final Recap
The course was expanded this year to allow for plenty of lines and variety to go with the huge tricks thrown down in previous years. The crowd and riders gave it their seal of approval by "cranking it to 11" from start to finish.
Gary Young was the top rider in Prelims on Friday, yet all 18 riders in the event rode great, reflected by the fact that less than 10 points separated Gary from 18th place.
Jason Watts from Brisbane, Australia made the most of his summer in the states by following up his third place finish at the Van Doren Invitational with a solid fifth place finish here. Boomerang airs and brakeless nosemanuals flowed together with huge tricks over the box. Fellow Aussie Ryan Guettler landed in fourth place with a one-handed table flip, huge flair, and the transfer of the weekend – an alleyoop 720 from spine to box.
Despite tweaking his knee during his top scoring prelim run, Gary Young followed up his big win at the Van Doren Invitational with a third place finish in Virginia Beach. He blasted the quarter pipe higher than anyone while riding in typical Gary fashion – fast and flowing with unique lines the other riders were blown away by.
Scotty Cranmer's runs were unreal. He finished .20 behind the winner, despite a fall at the end of his second run which was full of highlights – a massive double tailwhip flip over the box, a clean 720 over the spine straight into a fufanu to icepick to turndown on the wallride.
Last year's second place rider, Daniel Sandoval, moved to the top of the podium this year. In addition to his big tricks over the box, Daniel did huge double whips on the quarter pipe, a double whip over the channel, a 900 and a vader scuff nosemanual to add some lip trick variety.
The vibe throughout the week at the Vans Off the Wall BMX Invitational was reminiscent of the Vans Triple Crown of BMX series that ran from 2001-2004. The insane level of riding was surpassed only by the amount of fun had by all.
BMX FINAL RESULTS
1. Daniel Sandoval
2. Scotty Cranmer
3. Gary Young
4. Ryan Guettler
5. Jason Watts
6. Mykel Larrin
7. Kevin Peraza
8. TJ Ellis
9. Rob Darden
10. Andy Buckworth